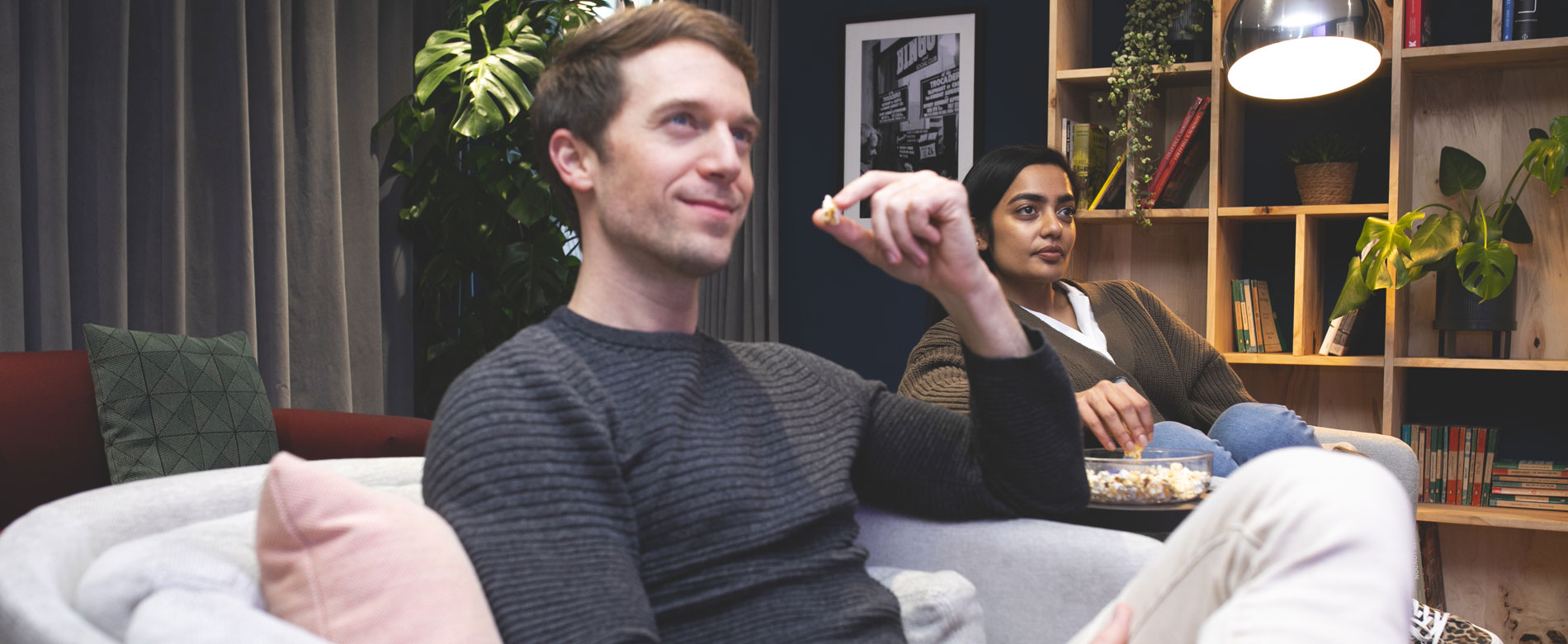 Ten classic movies to watch with friends
IT'S MOVIE NIGHT! INVITE YOUR FRIENDS, GET COSY ON THE COUCH, AND CHOOSE A MOVIE TO SUIT YOUR MOOD!
FUNNY - MRS. DOUBTFIRE
Why? It'll make you laugh until you cry, and cry until you laugh.
Snacks: Crisps are a must! We know they're a loud and crunchy snack but, if your laughter's as loud as Robin Williams' character, munching on crisps won't make a decibel of difference!
CULT - THE ROCKY HORROR PICTURE SHOW
Why? It'll have you dancing and singing and leave you a bit unsettled - it'll be great!
Snacks: Toast. If you know, you know.
WEIRD - EDWARD SCISSORHANDS
Why? Tim Burton is the master of the weird and wonderful. This early 90s film shares a message that's relevant at any time - don't ostracize someone for being different.
Snacks: Finger food! Carrots, celery, and spicy houmous dip fits the bill.
DISNEY - MOANA
Why? Despite being a more recent release, this one's a classic! Everyone loves it, the songs are fabulous, the characters are adorable, and there are no silly romances. Plus the ocean chose her. (We repeat - if you know, you know.)
Snacks: All things coconut! Cake, chocolate bars, drinks – think tropical sweetness.
CARTOON - SPIRITED AWAY
Why? If you're not a fan of anime or are too grown up for animation, Spirited Away will change your mind. It's heart-warming, scary, relatable, and funny. It's got a bit of everything!
Snacks: This is a film to pig out to (pun intended if you've already watched the film…if you haven't, you'll understand soon). Feast on hot dogs, nachos, burgers and popcorn - yum!
OLD SCHOOL CLASSIC - CASABLANCA
Why? Humphrey Bogart and Ingrid Bergman in all their monochrome, romantic glory. If you don't watch it, you'll regret it. Maybe not today, maybe not tomorrow, but soon and for the rest of your life.
Snacks: Relax and watch this film with a whisky - neat - and order from your nearest Moroccan take-away.
SCARY - THE SHINING
Why? You'll finally understand the meaning of 'all work and no play makes Jack a dull boy', and the dangerous consequences of being overworked. Haunted hotels and ghosts with a penchant for possession also don't help... This scary classic from Stephen King and Stanley Kubrick uses paranormal elements to bring out all of our greatest inner fears: isolation, vulnerability, paranoia, exhaustion, the unknown…
Snacks: The pristine snow that surrounds The Overlook hotel has us thinking about one thing: ice cream. Lots and lots of ice cream!
MYSTERY - SHUTTER ISLAND
Why: Just when you think you've figured out what's going on, there's yet another surprise. Nothing is what it seems in this film.
Snacks: Since the plotline focuses on someone missing in Boston, we recommend a Boston classic: clam chowder and thick filled sandwiches.
SAD - BEACHES
Why? Everyone who's lost someone close can relate to this film. It's sentimental and it's moving, and it makes you appreciate the people around you that little bit more.
Snacks: According to Harper's Bazaar, Bette Midler loves the Greek restaurant Milos. So we suggest some Greek themed food, like feta cheese, gyros, and olives.
SOCIAL JUSTICE
MOVIE: REMEMBER THE TITANS
Why? Based on a true story surrounding an American high school football team, this film tackles social issues still plaguing society today: racism, economic disadvantages, and sexism. It might be 20 years old but inspirational cinema never ages.
Snack: Pizza, pizza, and more pizza.


Sources:
https://www.lifedeathprizes.com/lists/the-rocky-horror-picture-show-props-17298
https://www.harpersbazaar.com/culture/features/a4421/bette-midlers-cultural-obsessions-1214/
https://www.estiatoriomilos.com/restaurant/milos-montreal/